Local Area Information
The Studio is located within the Broads National Park and is close to the waterways of the Broads. It is also very close to the lovely sandy North Norfolk beaches.  
East Ruston - East Ruston is a small spread out village lying 25 km north east of the medieval city of Norwich. The village is home to the nationally renowned Old Vicarage Gardens, a must see attraction for those interested in gardening and for those who are not, they have some lovely tea rooms. The Butchers Arms was our local pub but is now open only for takeaways. It is in within easy walking distance of the Studio. 
The Broads National Park - The Broads National Park is a unique mosaic of gentle landscape, lakes and rivers covering 303 square kilometres. Despite comprising only 0.1% of the UK the park area boasts more than a quarter of its rarest wildlife. Iconic mills and historic landmarks nestle among miles of waterways, fen, woodland and footpaths while idyllic towns and villages dot the wide landscapes. The broad, shallow lakes are man-made. They began as pits dug for peat to provide fuel during medieval times and filled over the centuries to become the boating playground they are today. More information about the Broads can be found at Visit the Broads.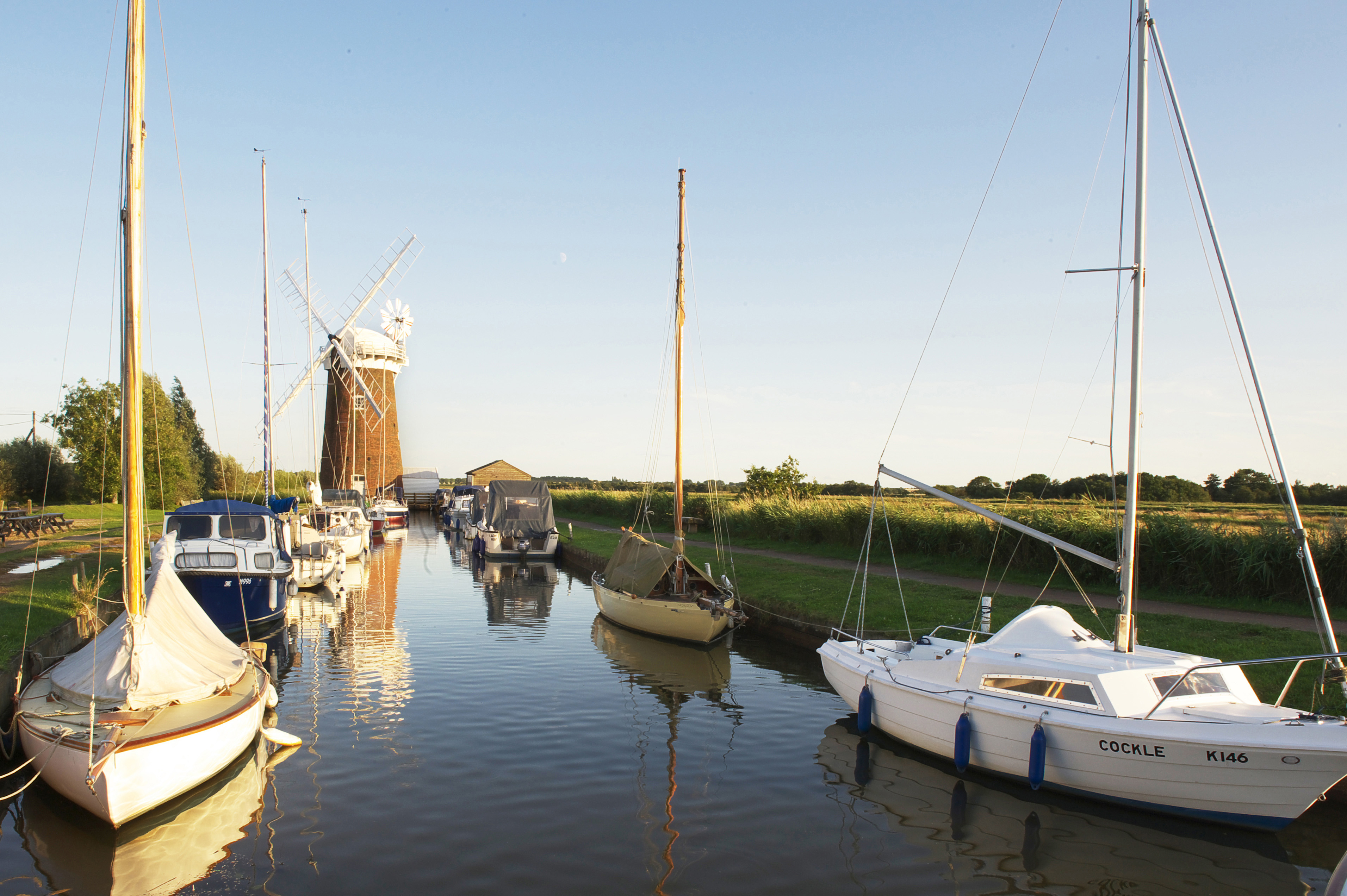 North Norfolk - North Norfolk is renowned for its spectacular coastline, fantastic wildlife, miles of glorious often deserted beaches, seaside communities and a beautiful hinterland of rolling countryside and picturesque market towns and villages. North Norfolk must be the birdwatching capital of the UK. More tourist information can be found about Norfolk generally at Norfolk visitor information
Walking The terrain in Norfolk makes for relatively easy walking. The long distance footpath route The Weavers Way passes adjacent to the property and there are local circular walks. South Fen is located along part of one of these circular routes which takes in Tonnage Bridge and Honing Lock which lies on the Dilham Canal. You may be lucky enough to spot kingfishers and otters along this canal.
Deep History Coast The coastline close to us is not only great for walking along but if you are lucky you can find fascinating fossils which help tell the story of when this coastline was actually linked to the continent.The Visit North Norfolk website provides more information about our area and the amazing finds people have made.
Fishing  - The Broads National Park is a well known coarse fishing area.  A Guide to angling on the Broads can be found via this link. 
Wildlife Spotting - You don't have to go very far from the Studio to start encountering rare species. Barn owls, Kestrels, Marsh Harriers and Buzzards all hunt over the fen. We have seen flypasts by Cranes and even the odd Bittern. Muntjac wander through the garden regularly which is a tad annoying as they munch on my flowers. During November and December the seals on nearby Horsey beach give birth to pups. These can be readily viewed from the dunes. Spectacular flights of geese can be seen as they overwinter in this area. Norfolk Wildlife Trust have some lovely reserves in the Broads area as do the RSPB. At The NWT reserve at Hickling you can take a boat trip from the reserve to view the wildlife on the Broad. 
Cycling - Our Studio is a great place from which to explore the North Norfolk countryside by bike with some quiet waymarked cycle routes  nearby. Bring your own or hire from a local cycle hire company. Broadland Cycle Hire offer a free delivery service for bookings of three days or more, as we are within a 10 mile radius of their main centre.
.
Boating - Day boats can be hired from a number of places including Wroxham, Hoveton, Stalham Staithe and Sutton Staithe. Canoes and Dayboats can be hired at Smallburgh. Canoes can also be  hired from Dilham. We would be happy to advise you which location may suit your requirements.